Windhill Goldens will always have a place in our hearts for the wonderful dogs who have passed on or retired from breeding. These dogs are the history of our kennel and live on through their puppies!
Windhill Summer Breeze, CD, CGC, URO1, ThD
AKC# SR78563801 UKC#R256-238
7/10/2013 – 9/13/22
Click this link to watch a beautiful video memoir of Breezy: Breezy Video
Windhill Summer Breeze ("Breezy") was an important member of our family and my "Heart Dog", who came along at around the time we became Empty Nesters! She was a product of Windhill Kennels, born in 2013 to Windhill Kiah Mae of Stolzman and Autumn's Tanner Sport. Breezy was a perfectly versatile family dog! She was intelligent, yet responsive and eager to please; she was mellow and calm, yet inquisitive and playful; she LOVED to retrieve and had litter mates and offspring who have became very successful hunting companions; she was loving and attentive to the moods and feelings of the people and other animals around her; and she was well proportioned and beautiful, with her mother's blocky head and gorgeous light golden color.
Breezy was an active, certified therapy dog, serving in the National Community Service Award winning Bemidji Area Reading Canine (BARC) program. Her affectionate and attentive nature was perfectly suited for therapy work and she made a lot of children, seniors, and disabled individuals happy during her life. She also completed her AKC Companion Dog (CD) Title and Canine Good Citizen (CGC) Title, earned her first UKC Rally Obedience Title (URO1), and trained for advanced obedience titles, completing two legs of her URO2 title. At her last competition, she placed first in the Level 2 Rally Obedience group. She was my "Sweetheart", who would do just about anything for me! She was an excellent, attentive mother and all of her puppies have turned out to be amazing dogs! She was also a stellar "Grandma Dog" to the puppies of her daughter, Savannah, wo has carried on her line. Breezy died at just over 9 years of age from lymphoma.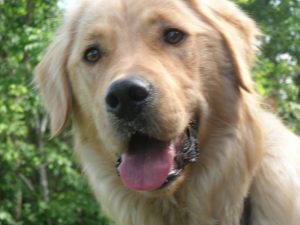 Click on photo to view more pictures of Kiah!
Windhill Kiah Mae of Stolzman: 6/20/2008 – 4/10/2017
Click this link to watch a beautiful video memior of Kiah: Kiah Video
Breezy's mother, Kiah, was a remarkably gentle and calm Golden, purchased in Michigan. She had a beautiful blocky head and the slightly larger size and lighter color characteristic of the English Golden strain. Her lineage includes conformation champions from the Beckwith and Bennington Hills lines, as well as obedience champions. Kiah was a gentle and loving mother, amazingly patient with her large litters. Her relaxed, yet playful disposition gives Goldens their great reputation as the best family dog available! Kiah passed away on April 10, 2017. She meant the world to me!
Northwoods Turn On Your Heart Light: 2/14/2015 (Retired Stud)
"Northwoods Neil" is a sweet, charming fellow with a calm and affectionate personality. He has a rich, lustrous red-gold coat and has potential to produce both light golden and dark golden puppies, or anything in between! He is an accomplished show champion, having earned his UKC Champion Title, multiple Best of Breed and Best of Group distinctions, and two Best in Show wins! He has also earned several AKC conformation points. He was owned and trained by Cathy Twistol, owner of Northwoods Kennels. Neil has recently become a beloved house pet now that he is retired from show life and breeding.
Neil descends from a long line of exceptional conformation and agility champion Goldens, including dogs from Rush Hill, Summit, and Asterling. These Goldens have demonstrated all-around intelligence, versatility, and hunting potential; earning advanced titles in agility, obedience, and working dog certificates in addition to conformation championships. Health and OFA clearances have shown generations of exceptionally sound and healthy dogs. He and Breezy produced 12 healthy puppies together in 2019. The following year, he and Savannah produced 6 outstanding puppies. In 2021, he and Savannah had 7 more! We are grateful for the three exceptional litters Neil provided for us!
Goldpuppies Sir Duece Play-it-Again
1/15/2013 (Retired Stud)
AKC# SR76049103 Click here to view his page at Goldpuppies Kennel
Goldpuppies Sir Duece Play it Again is a beautifully coated male with no health issues or allergies, owned by Darcy Pesta of Goldpuppies Kennel. He has a calm temperament, with plenty of curiosity and a playful nature that makes Duece an excellent family companion. He has a strong interest in the field with great potential. Duece has an outstanding pedigree with generations of accomplished field dogs from his sire and AM/CAN champion conformation lines from his dam, including Westmarch and Signature champions. His pedigree includes hunting lines decended from Topbrass Super Trooper, Frisbie's Rocket Roll, and other notable hunters. He lives with his own family with three boys. He is very loved!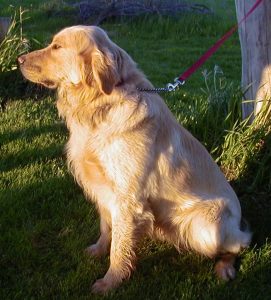 Autumn's Tanner Sport: 4/3/2005 (Retired Stud)
Click this link to view Tanner's page at Sharptail Ridge Kennels
Breezy's father, Tanner, is a classic Golden Retriever with a sweet, mellow disposition and a zest for retrieving! He loves to hunt and has won awards through 4H in field, obedience, and conformation categories. He is a descendant of American Field Champion Topbrass Cotton, Benjamin Rajah Frisbee, and several conformation champions. He has sired numerous litters of sound, healthy puppies who have grown to be wonderful family and hunting companions. Just like Kiah, there is nothing he loves more than having his belly scratched! He lives with a loving family in Northern Minnesota who also breed Goldens.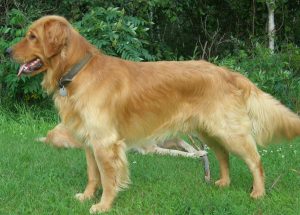 Click on photo to view more pictures of Dakotah!
Windhill Dakotah Thunder: 4/22/2009 – 9/17/2012 (Owned)
Dakotah was bred locally by Tracy Parthun of Bemidji, who actively uses her Goldens in the BARC Dog reading program and has sold puppies as service dogs. His lineage included multiple field champion, Frisbies Special Export, as well as several obedience champions. Dakotah was an enthusiastic retriever and absolutely loved the water. He was extremely eager to please and did well in obedience classes. He had a beautiful, well-proportioned physique and high stamina. He sired four large litters of puppies before he died of a non-genetic fungal infection called blastomycosis. This tragic infection most commonly affects young, male, hunting dogs who live near waterfront and come in frequent contact with moist soil under certain conditions. He has been sadly missed by our family.